LANDMATE researchers publish high-resolution plant functional type time series for regional climate models
The LANDMATE project developed a plant functional type (PFT) time series that is tailored to the needs of the regional climate modelling (RCM) community. The LUCAS land use and land cover change dataset (LUCAS LUC, Hoffmann et al. 2021) provides gridded land use and land cover change (LULCC) information on 0.1° spatial resolution, currently covering Europe (incl. EURO-CORDEX domain). The continuous maps are available in annual time steps from 1950-2100. A newly developed land use translator (LUT) was employed to convert the land use change information provided by the Land-Use Harmonization Data Set version 2 (LUH2) into changes in the plant functional type (PFT) distribution taken from the LANDMATE PFT dataset. The annual PFT maps for Europe for the period 1950 to 2015 are derived from the historical LUH2 dataset (LUH2 v2h) by applying the LUT backward from 2015 to 1950. From 2016 onward, annual PFT maps for future land use change scenarios based on LUH2 (LUH2 v2.1f) are derived for different Shared Socioeconomic Pathways (SSPs) and Representative Concentration Pathways (RCPs) combinations used in the framework of the 6th phase of the Coupled Modelling Intercomparison Project (CMIP6). The resulting PFT time series - the LUCAS LUC dataset - can be applied as land use forcing to the next generation RCM simulations for downscaling CMIP6 by the EURO-CORDEX community and in the framework of FPS LUCAS, to investigate the impact of both past and future LULC changes on the regional to local climate in Europe. Figure 1 shows the cropland area development for the past and the future including combined SSP/RCP scenarios for the PRUDENCE regions Eastern Europe and Mid-Europe.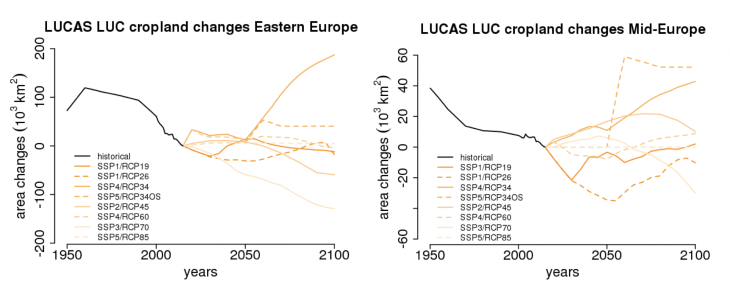 Figure 1: LUCAS LUC cropland changes for the PRUDENCE regions Eastern Europe (left) and Mid-Europe (right) (Hoffmann et al. 2021)
The base map (LANDMATE PFT 2015, Reinhart et al. 2021), which is used as starting point for the LUCAS LUC backward and forward extension, is also available in two resolutions, 0.1° (approx. 10 km) and 0.018° (approx. 2 km) respectively (Fig. 2). The map is based on the European Space Agency Climate Change Initiative (ESA-CCI) land cover map from 2015, where the LULC classes given by ESA-CCI are translated into PFTs using a carefully developed cross-walking procedure.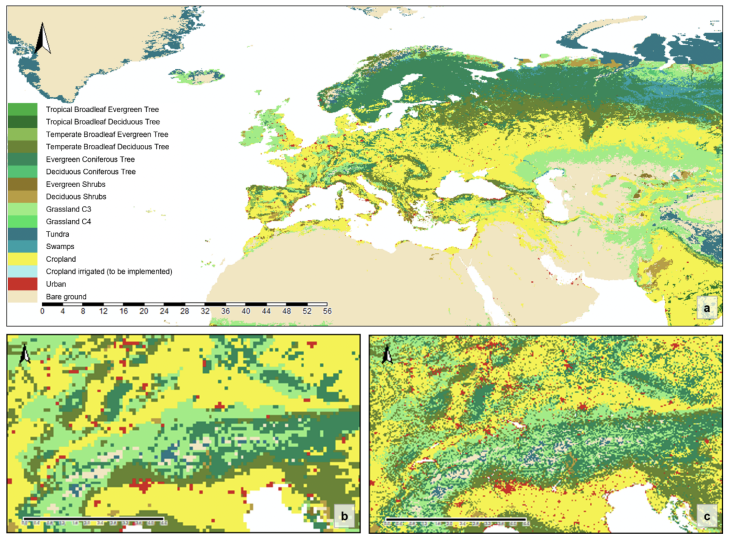 Figure 2: LANDMATE PFT 2015 overview (a). The examples below show the differences between 0.1° (b) and 0.018° (c) grid resolution for the Alpine region (Reinhart et al. 2021).