LANDMATE PhD candidate presents evaluation of latest land-cover dataset at the Baltic Earth 2020

Vanessa Reinhart contributed to the Baltic Earth 2020 with her assessment of ESA CCIs land cover (LC) dataset in the Eastern European region where ESA CCI LC was compared to the high-resolution land cover dataset CORINE. The overall objective of the study was to investigate the suitability of ESA CCI LC as input for regional climate models. The assessment showed that ESA CCI LC represents the predominant LC categories forest and agriculture reasonably well in the research area. Major issues were found for grassland, wetland, water bodies and urban representation in ESA CCI LC, which need to be assessed in further studies. Vanessa Reinhart took the opportunity to present HICSS and LANDMATE to a European audience and received valuable feedback from the participating scientists from various fields.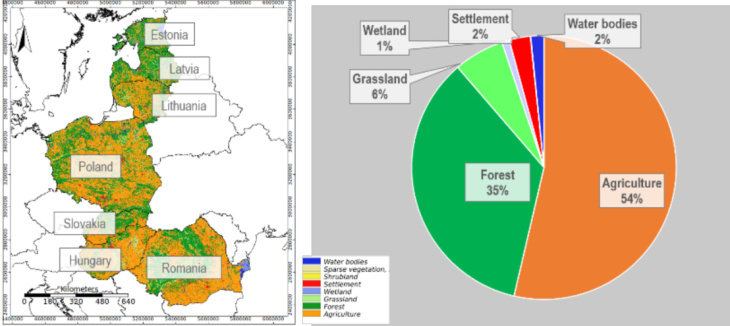 Research area and proportional area of the assessed categories.
Map: produced with SAGA GIS by Vanessa Reinhart. Data source: ESA CCI

Reference
Reinhart, V., Hoffmann, P., Bechtel, B., Rechid, D., & Boehner, J. Accuracy assessment of ESA CCI LC over Eastern Europe and the Baltic States from a climate modelling perspective – identification of spatial inaccuracy patterns and misclassification issues using a fuzzy comparison method. Earth system changes and Baltic Sea coasts, 19(7), 145.
Contact